Tasting Notes: Your Guide to Preserving Wine at Home
October 3, 2019
Maybe the various wines you've gathered on vacations are simply tucked into random kitchen cupboards and cabinets. Or perhaps you just joined your first wine club and are unsure how and where to store the bottles when they arrive. Whether you're a more seasoned collector, an occasional sipper or just getting started on your oenophile adventure, dedicated storage will keep your wine at peak drinkability — and diverse styles will easily suit a variety of spaces. We asked Andy Wahl, president and winemaker of Ammunition Wines in Sonoma, California, for his expert advice on how to choose the best wine cooler for your needs.
1. Keep Cool
Wines don't like to get hot around their collars. "If wine gets too warm, it will age faster and the heat can distort the flavors," Wahl says. "Heat can also ruin wine completely, which you won't realize until you open the bottle. The best bet is to keep wine at a consistent, cool temperature with active cooling technology."

So what temperature is perfect? White wines like to be a bit chillier at 55 to 59 degrees Fahrenheit, while reds should be kept at 59 to 62 degrees. If your household likes to drink both, "then a dual-zone wine cooler is great since your wine can be stored in the ideal conditions and you don't need two separate coolers for reds and whites," Wahl says. If you'd like drinks close at hand in your family room or near the pool, consider a dual-zone wine and beverage cooler that allows for a full assortment of sipping possibilities.
2. Add Shade
Sunshine and bright lights are one of wine's biggest enemies, aging your bottles prematurely with their UV rays. Red wines are bottled in darker glass so they're not as affected by the light as whites and rosés, Wahl says, but long exposure to bright light will negatively affect the flavor of any wine.
The antidote is to keep your wine in the dark. A wine cooler with dual-pane, low-emission, argon-gas-filled glass will give the wine extra protection. Wine coolers with LED lights inside illuminate the wine safely, and some coolers even have LEDs that shine in various colors to add an extra pop of style to your space.
3. Stay Fresh
When you uncork a bottle, you want to inhale the bouquet of the grapes without other smells nosing their way in. For the optimum aroma experience, "it's best to find a room or corner of the house that you can dedicate to wine storage," Wahl says. "This will ensure there are no unwanted aromas nearby to impact the wine."
Since many people like to keep their wines where they eat and entertain, this isn't always possible. For this reason, choose a wine cooler with dual-pane glass doors and a carbon air-filtration system. "This will help keep the wine cooler cavity scent-free," Wahl says.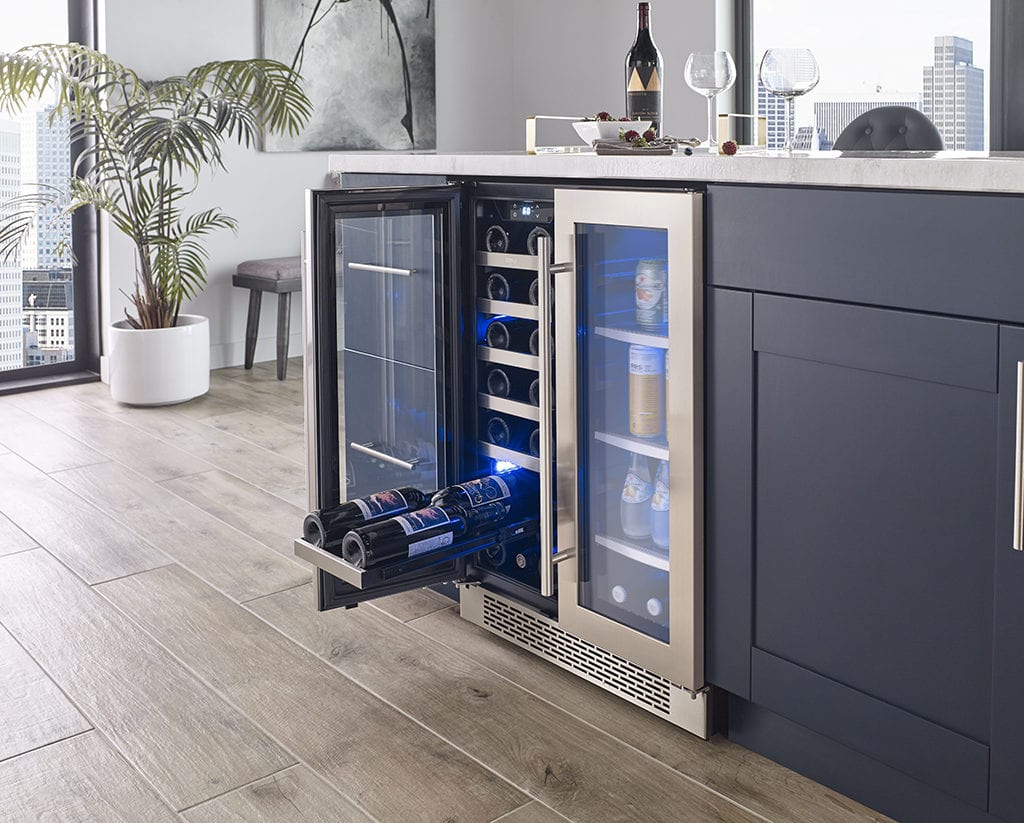 4. Stay Still
Keeping your bottles calm is important. "Wine needs to rest in a still environment until it's opened," Wahl says. "Disruptions in the wine aging process can affect flavors and rapidly spoil or flatten the taste." Look for wine coolers with built-in vibration-dampening systems that help mitigate the effects of any shaking floors or jostling furniture nearby.
Full-extension wood racks are another handy option. Not only do they let you see your entire collection, but their movement is smooth and keeps surrounding bottles lying serene while you hunt for a particular vintage. "Storing wines on their side settles tartrates, which maintain the wines' chemical consistency. It also keeps the corks moist and expanded," Wahl says of why you should let your wines fully recline.
5. Store With Style
Once you've chosen the practical features of the wine cooler to suit your collection, think about its placement and overall appearance. If you're planning a major remodel, or even a minor renovation, consider a built-in wine cooler. Since many coolers are finished on all sides, they can be seamlessly integrated into any room in the house, making it easy to reach for a bottle from the dining room table or pour a glass of bubbly in the bathtub. Finishes such as stainless steel or black let you match to existing appliances, and there are also French-door and tall, freestanding wine coolers that make their own style statements.
Ever the realist, Wahl offers up these final words of advice: "When you finally find a wine fridge that fits your needs — buy a bigger one."
To learn more about the products discussed in this story, peruse through our entire Presrv™ collection.
*This story was written by the Houzz Sponsored Content team. To learn more, please visit our Houzz profile.