Tasty Tuesdays: Parmigiano Panko Herb Encrusted Chicken
March 19, 2013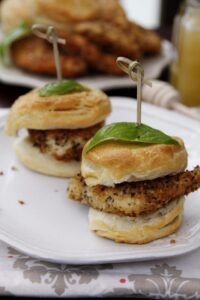 It's the beginning of the week and you can't seem to shake the feeling that the weekend is never going to get here. We think Tuesdays are perfect for a little splurge. Every week, we'll share yummy recipes we have either tried ourselves, received from fans or discovered online. Tuesdays deserve more credit and we're going to do all we can to spice up your week starting now. This seems easy enough to make on a work or school night. It also can be served with mashed potatoes or bake some quick biscuits for a yummy sandwich.
What You Will Need:
4-6 chicken breasts – enough for your family
Olive oil
Panko flakes – enough for breading
1 1/2 cups Parmigiano Reggiano, grated
2 tablespoons dried basil
Salt & pepper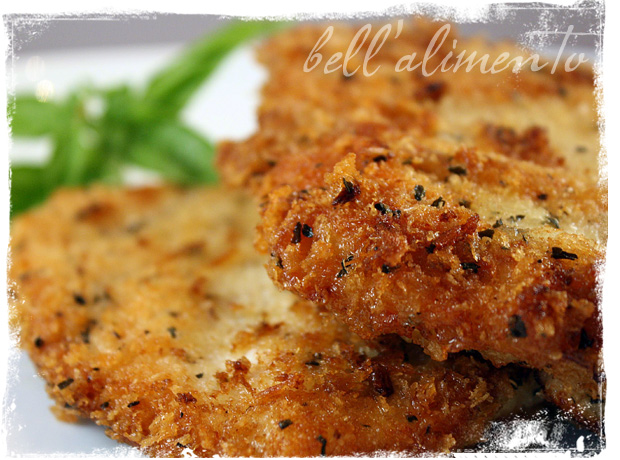 What To Do:
Trim chicken breasts of any excess fat. Cover chicken with a piece of plastic wrap. Pound them out with a mallet until they're about 1/4″ thick.
In a large deep sided pan (I used my chicken fryer) over medium-high heat, put enough olive oil to pan fry your chicken breasts.
WHILE oil is heating, place panko flakes into a pie dish (or another dish large enough to bread your chicken). Add Parmigiano, basil. Season with salt and pepper. Mix together with a fork. Press chicken breasts into Panko mixture, breading chicken on both sides. Continue until all chicken is breaded.
Place breaded chicken breasts into hot oil, and fry until golden brown on both sides. Turn as necessary. Be careful not to crowd the pan – do batches if necessary. Roughly 3 minutes per side depending on the thickness of chicken. Allow chicken breasts to rest before serving.
*Recipe and imagery courtesy of Bell'alimento