March 27, 2018
AD Design Show & DIFFA Cocktails by Design
We're back from an inspiring Architectural Digest Design Show! We had a great response to our new Titan with PowerWave™ blower technology, which gives consumers the option to achieve 1,300 CFM – the most powerful internal blower on the market. Available in May 2018, Titan has five size options from 36-inches up to 60-inches along with pro baffle filters and directional LED lighting.
We also launched the perfect hood for the NYC market – our new 24-inch Anzio that features a low-profile design with BriteStrip™ LED Lighting and ICON Touch® Controls.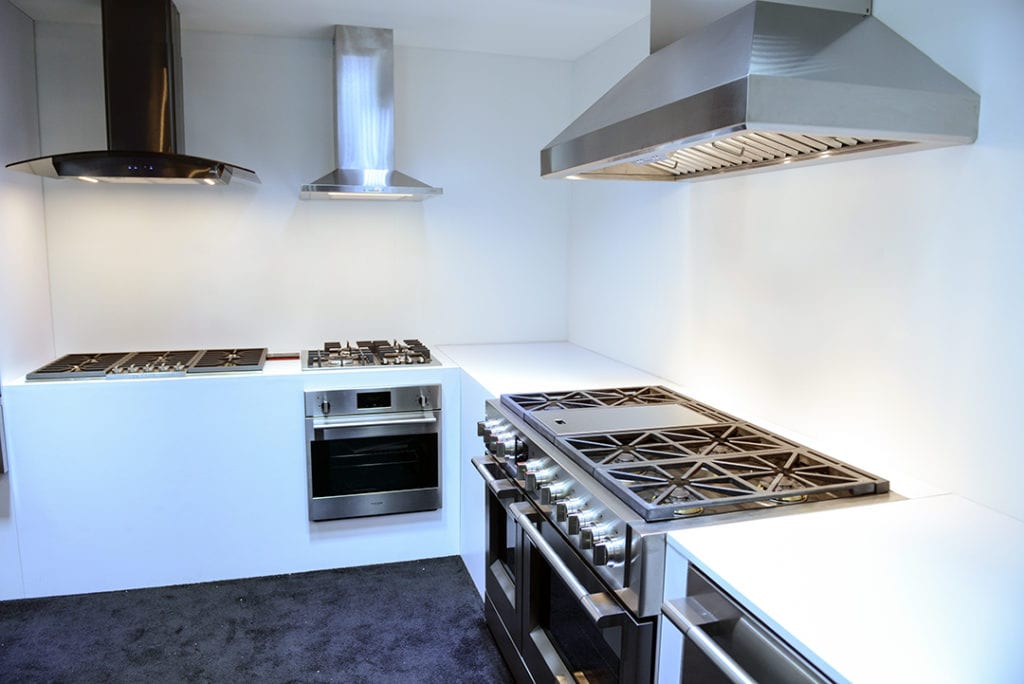 New York City-based designer Meagan Camp did some trend-spotting for us at the show and here were a few of her favorite finds:
Black Stainless Steel – this continues to be a huge trend in kitchen design! Zephyr's Ravenna Island and Okeanito in Black Mirror Stainless are super sleek and feature an anti-smudge coating (what's not to love about that?!). I also loved Brizo's collection in Black Matte Stainless, especially the collaboration with fashion designer Jason Wu. Touches of black add a cool, fashion forward look to any kitchen, and it doesn't require a huge overhaul.
Curves – From LA-based Consort's amazing furniture line, to Scout's "Promenade Sofa", I saw pieces of furniture this year featuring beautiful curves as a design element. You see a lot of clean lines and sharp edges in modern design, so it's refreshing to have options as a designer. I also loved Coil + Drift's contemporary lighting products, which feature more understated curves.
Color and Brass – I loved all of the rustic and earth tones at the show this year, speciously the terra cotta and burnt-orange colors. Perhaps a departure from all the pink we've been seeing in years past? Brass continues to be a trend that's still going strong with many designers showcasing brass accents, like Debra Folz who displayed her gorgeous console with Ribbon details. Virgina Sin is also an extremely talented designer, who's known for her table top pieces and vases, and this year she debuted a new line of light fixtures.
We also attended the annual DIFFA Cocktails by Design Event, which is a spectacular display of cuisine, creativity, and glamour with one-of-a-kind dining environments that awe and inspire. Below were a few of our favorite finds and here's a slideshow of all the tables from the event.