Design & Experience Center
Business Hours
*Monday Through Friday
9:00AM – 5:00PM Pacific Time (PT)
*Please use the scheduler tool below, call, or email to request an in-person or virtual appointment with our DEC Manager. For product support questions or anything else, please fill out the form on our Contact Us page.
Design & Experience Center Contact Info
Email: showroom@zephyronline.com
Phone: (888) 880-8368, select Option 5
Schedule An Appointment
All dates and times displayed in the calendar below are set in the Pacific Time Zone.
View Our Products With Confidence
We are committed to operating with the highest safety standards to ensure the health and well-being of our team and yours. To ensure the safety of our guests, we've enacted the following protocol: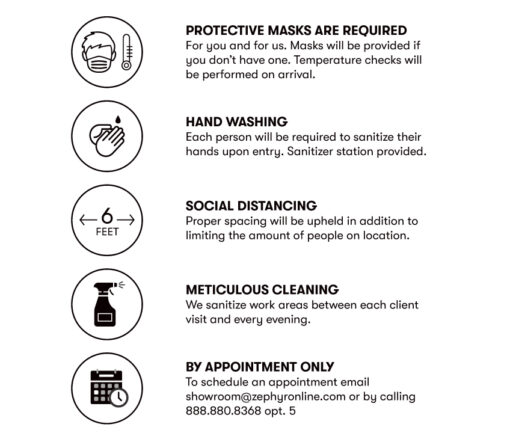 About the Design & Experience Center
The Zephyr Design & Experience Center is a luxury showroom, education and training facility that features specialty residential appliances. The 7,000 square-foot space provides design inspiration with hands-on, working displays, and is open to the public and trade experts.
The Design & Experience Center showcases residential kitchen appliances, which include the Zephyr Core, Designer, and Pro Range Hood Collections; Zephyr Presrv™ Wine & Beverage Coolers; and Fulgor Milano Italian Cooking Appliances.
Visit our Find A Dealer locator to purchase one of our products. We are not a retail storefront, and no sales transactions take place here.
Location
2277 Alameda St, San Francisco, CA 94103
(888) 880-8368, select Option 5
showroom@zephyronline.com