March 27, 2023
We'll Drink to This! Zephyr Introduces Industry-First Hybrid Presrv™ Kegerator & Beverage Cooler
Hosting the ultimate party relies on guest dynamic, a perfectly curated playlist, and most importantly – whether everyone's favorite drinks are on-hand and chilled to perfection. Expanding on its collection of Wine & Beverage Coolers, Zephyr has ensured your status as the host or hostess with the most (drinks) with its new Presrv™ Kegerator & Beverage Cooler.
This versatile, industry-first hybrid kegerator features multiple configurations that allow you to tailor your cold beverage offerings with single, double, and triple tap options elevating any entertainment opportunity. From the 4th of July backyard barbecue to family birthday parties and indoor game nights with friends, the Presrv Kegerator promises beverage options for every party guest. And its sleek stainless-steel design and quality craftsmanship allow it to live in the most modern of indoor or outdoor spaces.
You've Got Options: Versatile, Five-Configuration System
Honoring the diverse possibilities of your party guests and their respective drink preferences, the standout feature of the Presrv Kegerator is its five distinct configuration options.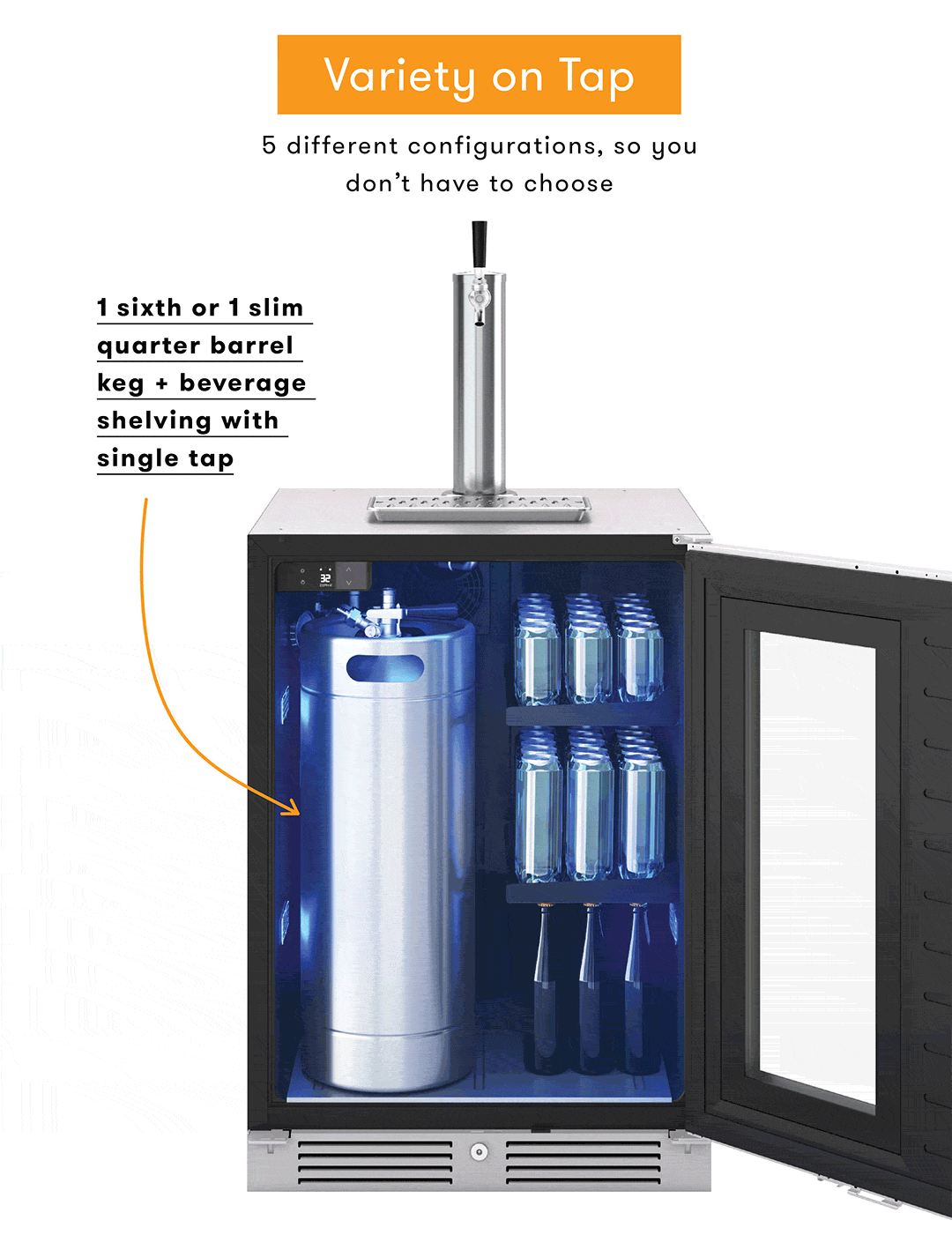 For the host who knows the on-tap beverage that always hits with guests, the Kegerator supports one half barrel keg with a single tap. If your crowd is divided by Coors Light die-hards and craft lovers, two sixth barrel kegs with a double tap can be configured. And for the MVP host of the neighborhood block parties and playoff games, the Presrv Kegerator accommodates up to three sixth barrel kegs with a triple tap, appeasing even the most avid cerevisaphiles. Imagine your guests' excitement when you offer an on-tap array that rivals most restaurants.
If your entertaining style tends to cater to a wider variety of drink preferences, the Presrv Kegerator can also be configured to accommodate one sixth or one slim quarter barrel keg with a single tap and two adjustable glass shelves. This lets you store up to 53 cans of alternative bevvies such as hard seltzers, soda, and sparkling water — all from your at-home bar. With a separate nitrogen tank and stout tap, the system can also dispense other kegged beverages (hello cold brew, hard cider, and root beer!).
Kegerator options are hardly the last call on this hybrid party pleaser. What sets this cooler above the rest is the ability to transform the unit into a single zone beverage cooler – sans tap or keg – with three glass shelves to chill up to 107 cans of soda, seltzers, water, or juice.
Single, double, and triple tap kits are sold separately according to your entertaining preference, and include the tap(s), CO2tank, regulator and D-style keg coupler. The beverage cooler conversion kit (for when no keg is installed) is also sold separately. Three-color LED lighting settings (Cloud White, Deep Blue, and Amber) allow you to sync the party vibe to the ENERGY STAR®-certified unit, which also features electronic capacitive touch controls.
Pick Your Party Place: Elevated Indoor & Outdoor Entertaining
A standout upgrade to your outdoor kitchen or bar, man cave — or even the corporate office — the Presrv Kegerator facilitates an unforgettable beer and beverage experience. The sleek, 24-inch stainless steel unit is available in two options: an indoor model with a glass display window and an outdoor model (that can also be used indoors) with a full stainless-steel exterior. Both include an integrated door lock.
Chalking up another big cheers for versatility, the Presrv Kegerator can function as a freestanding unit or be installed under a countertop. Zephyr delivers another industry first with its included patent-pending, built-in installation kit, simplifying under-counter installation.
Bottom Line: How's the Beer?
One could geek out on the chameleon-like configurations of this kegerator alone, but let's also address the elephant in the bar: how's the beer?
The Presrv Kegerator features a PreciseTemp™ system with multiple internal sensors to maintain accurate temperatures, which offer a range from a crisp 32 degrees — one of the coldest units on the market — to 65 degrees Fahrenheit. A three-layer, Low-e Argon-filled glass door further maintains optimal chill, while Active Cooling Technology offers temperature stability and even cooling via on-board computer-controlled fans. The unit also features a Beer Line Cooling system, which blows cool air into the beer line for a lasting chill and foam-reduced finish.
All the guest-enticing fun (and cold beer) paired with the smart, multi-functional features to satisfy modern hosts and partygoers alike, the Presrv Kegerator & Beverage Cooler just elevated Zephyr to top seed in the kegerator/ beer-dispensing space. And for those adding the Presrv Kegerator to their preferred party space? You just won entertainer of the year.
To learn more about the Zephyr Presrv™ Kegerator & Beverage Coolers, visit zephyronline.com. For more information about Zephyr Presrv™ Wine & Beverage Coolers, view our complete product line.