April 27, 2021
At Close Range: The Zephyr Connect App Offers the Ultimate in Kitchen Convenience and Ease
Produced by Architectural Digest with Zephyr
Like many people around the world, I've become far more acquainted with my kitchen in the past year. Finally fed up with the futility of my lazy Susans and the bronzy, late-'90s backsplash we inherited from our house's previous owners, my husband and I recently greenlit a long-dreamed-about kitchen renovation project. Even when things return to something closer to normal, we know we'll be spending more time at home. That's not a bad thing. We love it here, and with a new kitchen that feels fully ours, we'll love it even more.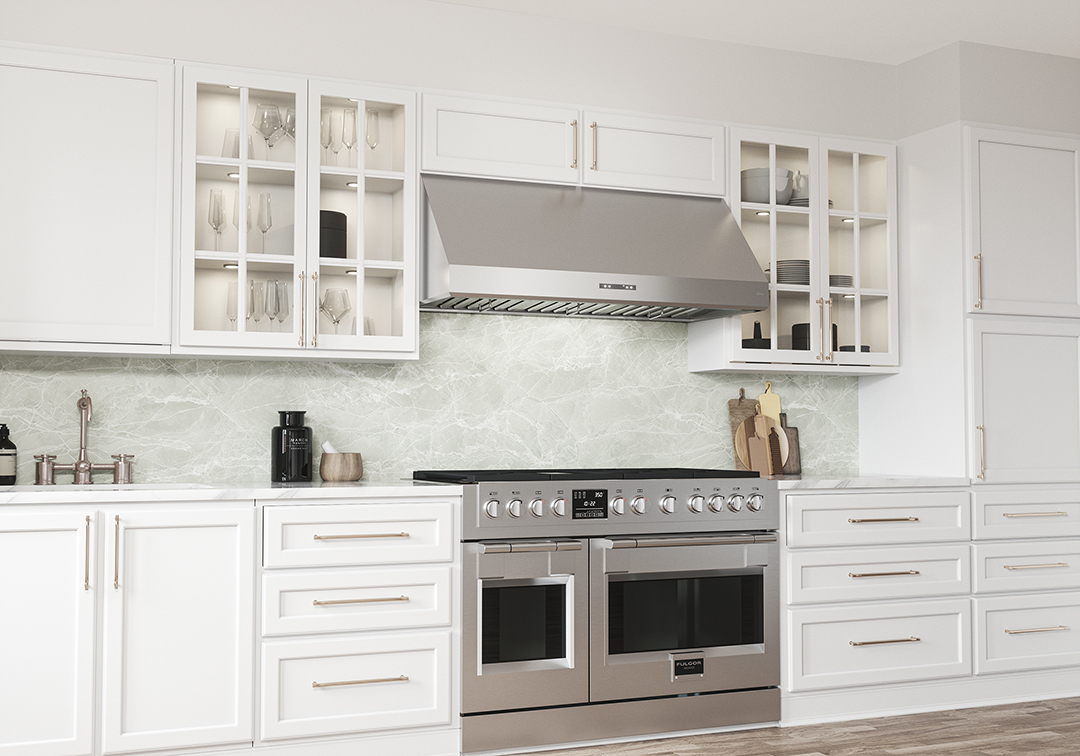 I've become a much better cook, too, having used the extra time at home to experiment with new recipes and techniques; my husband, meanwhile, is a seared-salmon master. But we could still use all the help we can get. That's a big part of what makes the range hoods from Zephyr so appealing. The brand has always been known for its design-driven, forward-thinking tech, and its newest launch, The Zephyr Connect app, integrates with Alexa and Google Home devices to let cooks control their range hood by voice — an industry first. We've both gotten used to voice-activated assistance in the kitchen, relying on Alexa to pull up our favorite cast-iron skillet pizza recipe or control the cooking soundtrack while our hands are busy mincing garlic or stirring the sauce. Zephyr Connect makes that easy to do with your range hood — "Alexa, turn on Zephyr," or "Hey Google, set Zephyr to speed 5" — just shout out your command and consider it done. If you're one to have lots of pots boiling or are easily overwhelmed in the kitchen, it's an ideal feature. And it's currently compatible with select wall, island, and insert models. That includes the sleek new Tidal Wall pro-style hood, which features virtually-silent PowerWave™ blower technology and touch controls that light up when you approach the hood and automatically power off when you're done.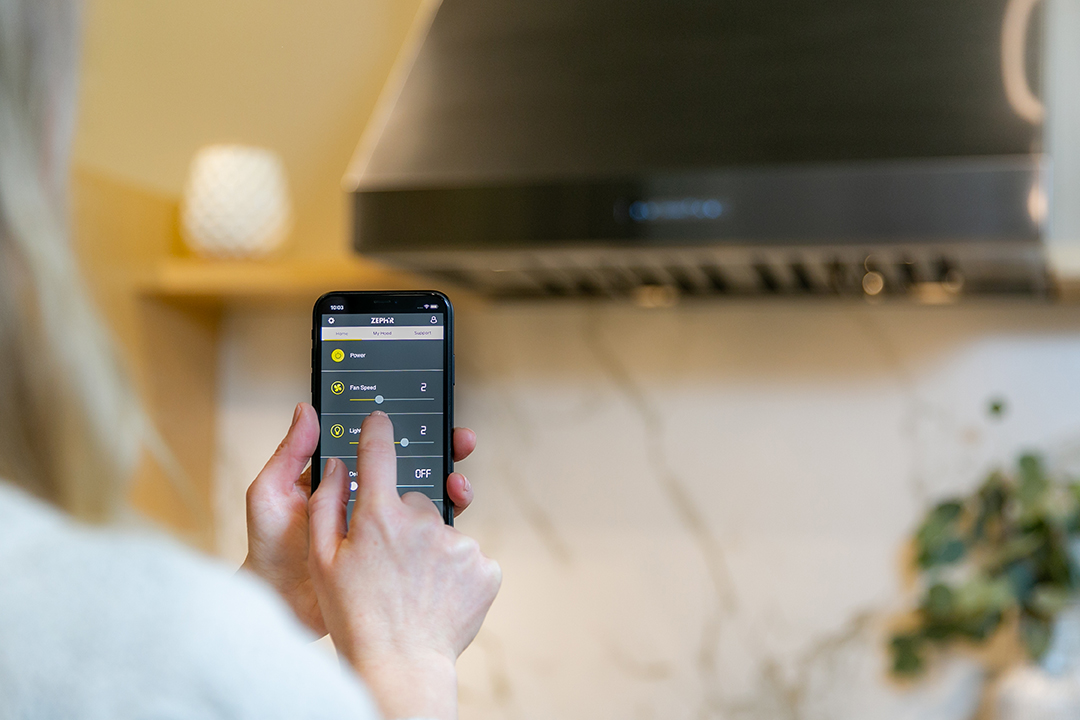 The Zephyr Connect app will also dish out advice on things you didn't know to ask for with its intuitive support technology. For instance, when was the last time you remembered to clean your grease filter? The app reminds you when it's time to clean or replace your filters, linking directly to your model, the right parts to purchase, and how-to videos that walk you through the install. You'll also be notified if the hood has been left on for more than three hours. This is particularly useful if you, like me, are the sort of person who routinely leaves home only to circle back because you're positive you left the lights on/candle burning/oven running. With the app, you can now turn off your hood from anywhere. With a quick swipe, you can also connect to Zephyr's Product Support team, using real-time diagnostics to troubleshoot issues and access warranty information right through the app.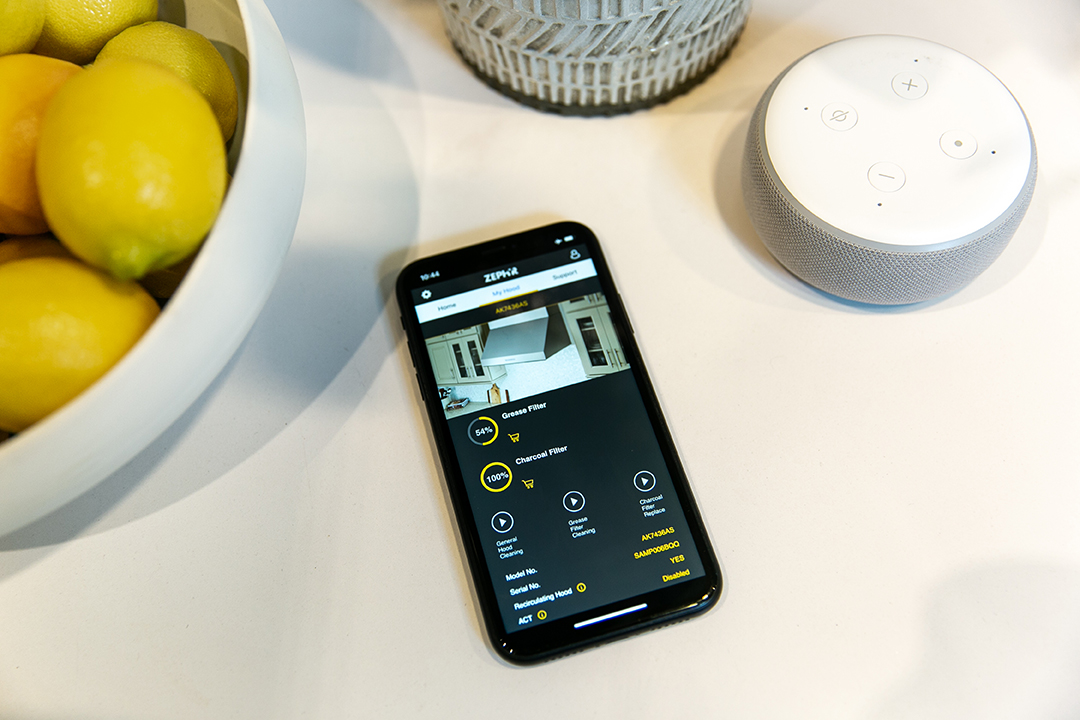 And while you're at it — or at least while I'm at it, because this is my first kitchen remodel and why not? — Zephyr also recently introduced a line of wine and beverage coolers. Like the brand's range hoods, the Zephyr Presrv™ collection was designed with an eye towards the sleek and whisper-quiet, with a retractable quarter-shelf and Active Cooling Technology™ that eliminates the hot/cold pocket problem found in other coolers. An approachable price point leaves more room in your budget for the actual wine (or whatever it is you're drinking these days) — and there's plenty to love about that. Safe to say you'll love it just as much as, if not more than, my skillet pizza.
For more information on Zephyr Connect and Zephyr Presrv™, visit zephyronline.com. And to read the full-length article, visit Architectural Digest.