September 23, 2020
How to Design a Delectable Kitchen for Entertaining at Home
Ingredients include a covetable bar and a range hood with built-in Bluetooth® speakers
People's fondness for sharing good food and conversation at home with those they love is undeniable, and it all centers around the kitchen. "If you were to think of your house as a living organism, the kitchen would definitely be the heart — or stomach," designer Austin Carrier says with a laugh. While hosting is looking very different these days, you can use this time to turn your kitchen into your dream entertaining oasis. That way you'll be ready to have a big, marvelous get-together when it's safe again to do so — and treat yourself to some fancy meals in the meantime.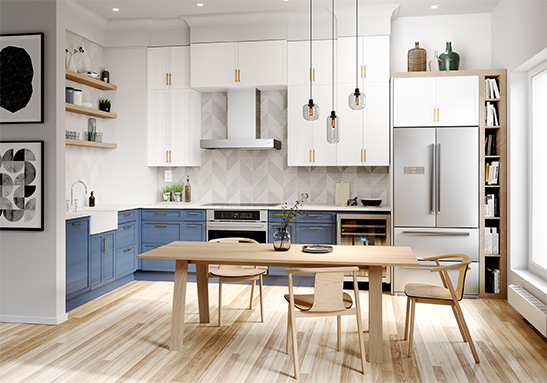 Take Advantage of Fun Technology
Kitchen appliances can prompt a party state of mind just as easily as a cheese board and your favorite tunes. In some instances, they can even play your music. "The ultimate is a range hood that can play a hip-hop or reggae mix, especially now that we're all cooking at home," designer Nicole White of Miami says. "Music in the kitchen helps set the mood while my steak sizzles." The Zephyr Roma Groove Wall range hood seen here has built-in Bluetooth® speakers that can stream music from any Bluetooth-compatible device — while cleaning your air to boot.
A high-tech wine cooler is also a fun addition. "I'm always here for a wine fridge with technology that perfectly chills wines to the ideal temperature," White says. Designer Alex Mutter-Rottmayer, who co-owns hommeboys with Carrier in Sonoma, California, adds: "We love the lighting options inside the coolers to set the mood."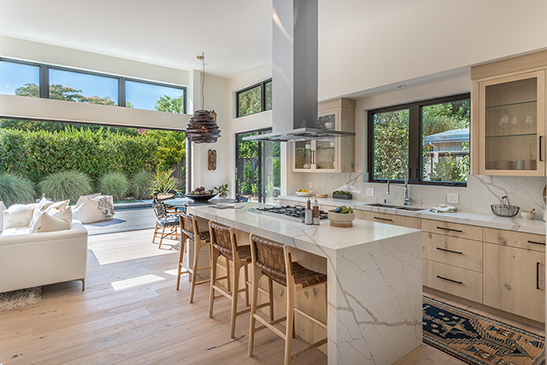 Embrace a Convivial Layout
Open your kitchen to adjoining spaces and spring for an island to spark connection. "I'm 'team largest island possible,' which is a surefire way to keep the cook and guests fully engaged," White says. Carrier and Mutter-Rottmayer agree. "We like replacing one wall of cabinetry with a giant island looking into the room. And by giant island, we are talking 12 to 15 feet," Carrier says. It'll give you plenty of prep and serving space.
Add an island range and a complementary island range hood, like the remote-controllable and ADA-compliant Zephyr Modena Island range hood seen here, so you can easily chat with your loved ones as you simmer and stir. "It is all about that eye contact, baby!" Mutter-Rottmayer says. "The face-to-face atmosphere that an island provides is ideal for making your kitchen a hangout spot that everyone will want to be in."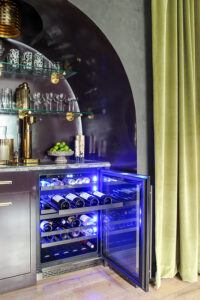 Bring the Bar to You
No need to venture out for a perfectly chilled chardonnay or a refreshing Pilsner. Install a bar in your kitchen to enjoy your favorite beverages at home — and add a cooler (or two) to keep them tasting delightful. "The home bar has never been more important than in the current time we find ourselves in," Mutter-Rottmayer says.
Oenophiles should look for a wine cooler with precise temperature control, air filtration, protective glass and dual zones for whites and reds like the Zephyr Presrv™ Dual Zone Wine Cooler. Full-extension wood racks, a black interior and a black stainless exterior bring sleek style. If you prefer beer and soda, opt for an extra-large beverage cooler, White says.
If you're tight on space in your kitchen, consider carving out a bar in an underutilized area, such as an island end, a built-in kitchen desk, an underused closet or a side room. White slotted two Zephyr Presrv™ Full Size Wine Coolers in her dining room-home office, seen here. "Remember there's hidden space inside all walls — 4 to 6 inches — so don't be afraid to use that space as a niche or a recessed space for bar glassware and accessories," she says.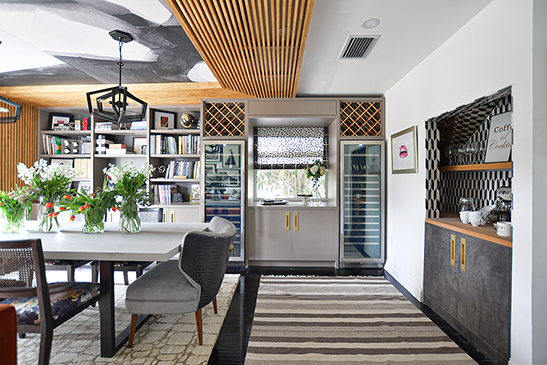 Take the Party Outside
Extend your kitchen into the backyard for a staycation-style vibe and plenty of room to move about. "You need, at a bare minimum, a sink, an outdoor beverage fridge and a grill," Carrier says. Outdoor beverage coolers like the Zephyr Presrv™ Outdoor Single Zone Beverage Cooler can stash your favorite drinks as well as fresh veggies for barbecuing. Choose one with casters if you want to move it closer to the pool or hammock as needed. "We always include at least two coolers for outdoor projects," White says.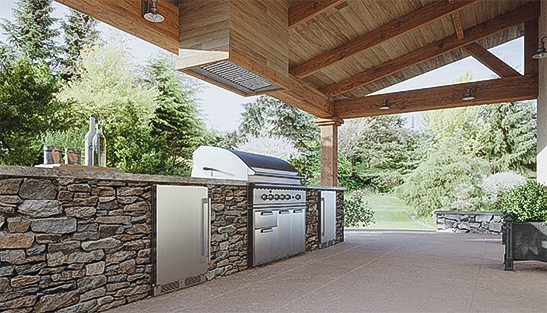 Install a shade structure so the fun can continue rain or shine. Mutter-Rottmayer recommends an overhead steel trellis with wood slats or a sail shade that covers both your cooking and dining areas — they should be together for chatting purposes. White adds, "Be sure the grill is in a shaded area — the poor grill master needs to be sheltered."
Keep Things Low-Maintenance
Cleanliness is a top priority, so make sure your cooking space is designed for easy cleanup. "A powerful vented hood is always a must," White says. This goes for outdoor kitchens too, so grease and smoke don't mar your alfresco get-togethers. Choose a high-performance outdoor hood, like the Zephyr Cypress Wall Outdoor range hood seen here, that can withstand extreme heat and moisture. Built-in lights are also handy.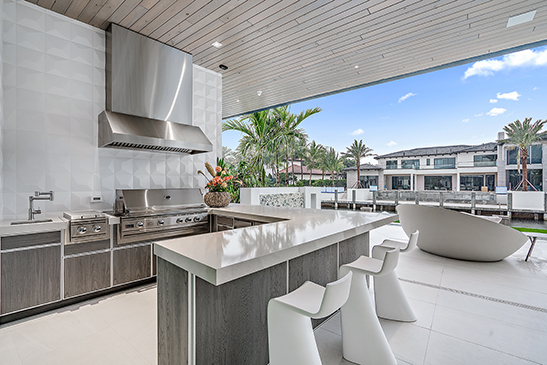 "Quartzite materials are king when it comes to picking a durable countertop that is low-maintenance," Carrier says. "A nonporous tile floor is also not a bad idea for those who have a penchant for fried foods." Include plenty of storage too, to keep the focus on the party, not the clutter.
Whether you take advantage of appliance innovations like a music-playing range hood or find a creative way to integrate a home bar, any of these tips will help you elevate entertaining at home. Cheers!
To learn more about the Zephyr range hoods and Zephyr Presrv™ wine and beverage coolers pictured in this story, take your time perusing our website.
This story was written by the Houzz Sponsored Content team. Visit Houzz to view the full article.