July 24, 2020
Take the Dinner Party Outdoors
Designing an outdoor kitchen requires a lot of the same thought and components as the indoor kitchen, including: location; appliances; plumbing; electrical components; cabinetry; and ventilation.
Homeowners are blurring the lines between indoor and outdoor living, and this primarily centers around the kitchen. What used to be an afterthought in indoor kitchen design, the range hood is now the centerpiece and a critical component when selecting appliances. We're seeing this trend now in the outdoor kitchen as well, and are happy to provide consumers with powerful outdoor range hood options. The Cypress, Spruce, and Willow outdoor hoods by Zephyr feature increased depth, improved exterior, more ventilation power, and new features to withstand extreme heat and moisture. And the Presrv™ Outdoor Beverage Cooler by Zephyr is the perfect complement to your outdoor range hood, providing endless entertainment to guests throughout the seasons.
Do I Really Need Outdoor Kitchen Ventilation?
Outdoor cooking has transitioned to outdoor entertaining, and guests are interacting and eating in closer proximity to the barbecue, with more exposure to smoke, grease, and odors. If the outdoor grill is located under a combustible covered structure, a powerful outdoor range hood is necessary and often times, building codes may require a hood be installed.
The outdoor hood functions the same as they do indoors, extracting all of the unnecessary components and keeping the outdoor kitchen, furniture — and your guests! — clean and grease-free. Including a range hood in the beginning of the outdoor kitchen build-out will undoubtedly be more cost effective than waiting until later when walls, countertops, and siding have become discolored and damaged from smoke exposure.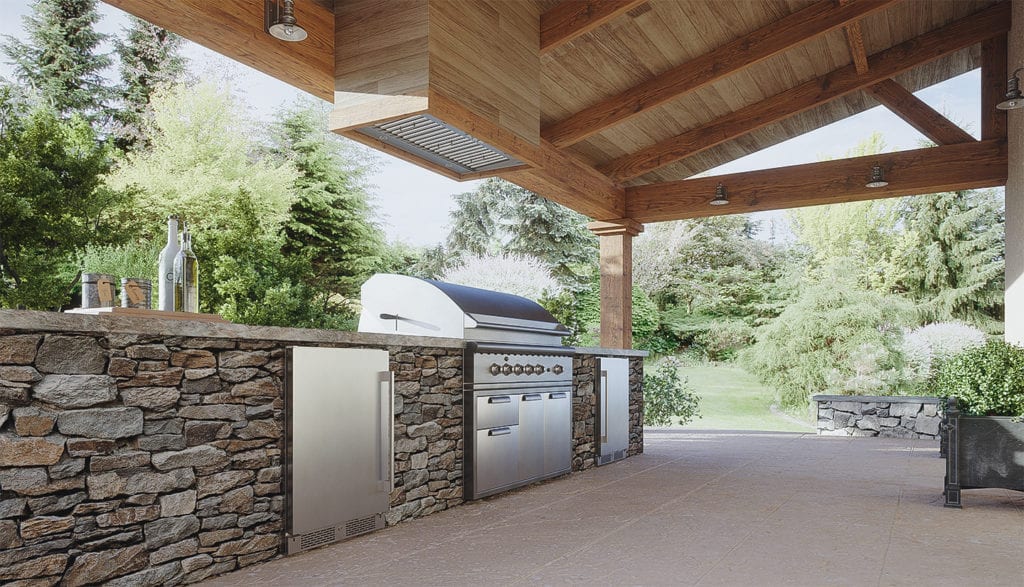 Cold Drinks An Arms-Reach Away
Complete your outdoor entertaining experience by installing an outdoor fridge to complement your outdoor kitchen vent. Standard, indoor refrigerators are built to keep everything inside of them cold despite the temperature outside. The average home temperature stays relatively even — generally between 60ºF and 80ºF. Temperatures outdoors can oscillate drastically from morning to night and vary widely from freezing cold to blazing hot. Because of this, outdoor refrigerators are built to consistently maintain cold temperatures despite the unstable temperature of the outside environment. The Zephyr Presrv™ Outdoor Beverage cooler is built with corrosion-resistant 304-grade stainless steel, which is durable enough for outdoor use throughout the year.
If wine gets too warm, it will age faster and the heat can distort the flavors. Heat can also ruin the wine completely, which you won't realize until you open the bottle. Zephyr Presrv™ Wine & Beverage Coolers come standard with PreciseTemp™ and Active Cooling Technology to provide temperature stability and even cooling to maintain that perfect temperature.
Why Zephyr Outdoor Ventilation & Zephyr Presrv™ Outdoor?
Zephyr's Cypress Wall Outdoor pro-style range hood combines form and function with its seamlessly contoured, fully welded and polished marine grade exterior. Its extended 32-inch depth provides even more capture over professional, powerful outdoor grills; offering more coverage than traditional outdoor range hoods. The corrosion-resistant stainless steel canopy houses high-performance professional stainless steel baffle filters that enhance airflow and are dishwasher-safe. Three-speed metallic knob controls withstand extreme temperatures and natural elements, and dual-level halogen lighting illuminates the grill when cooking after dark. An optional 304 grade 12-inch duct cover is also available. Cypress is available with a 1,200-CFM blower in: 36-, 42-, 48-, and 54-inch widths.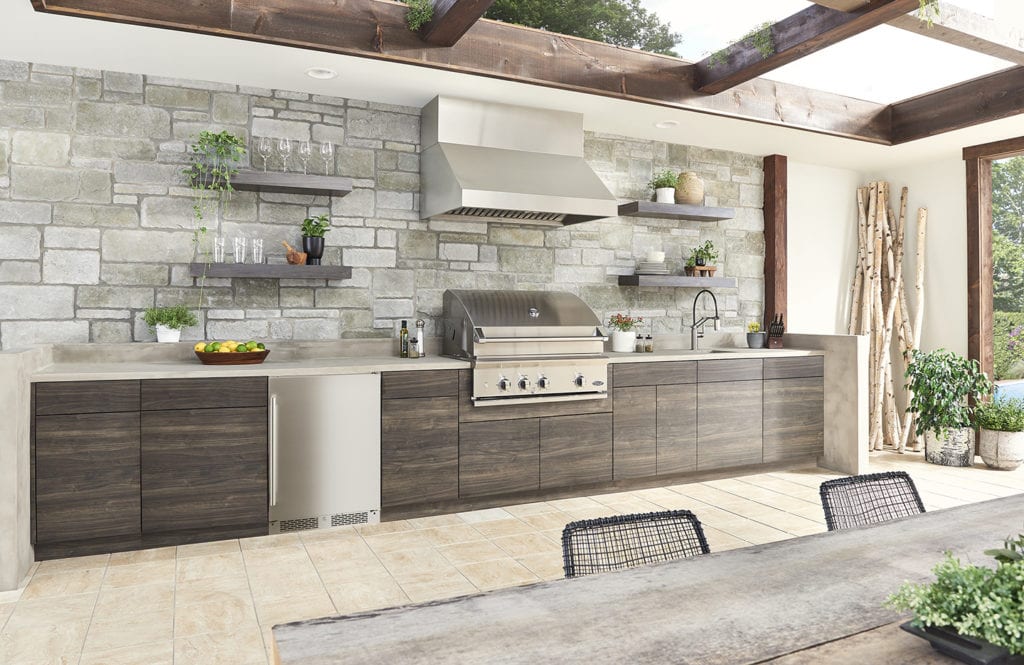 Spruce Insert Outdoor pro-style kitchen vent is a one-piece liner that can be installed in wall or island applications. Spruce includes corrosion-resistant 304-grade stainless steel and powerful, 1,200-CFM internal blowers to handle the most intense grilling. Featuring three-speed metallic knob controls and directional halogen lighting with pro baffle filters that enhance airflow, Spruce is available in: 36-, 42-, 48-, and 60-inch widths.  
Willow Insert Outdoor pro-style kitchen vent features a 1000-CFM blower that won't give in to the elements or the heat of outdoor gas grills. The outdoor hood is available in either 304-grade corrosion-resistant stainless steel or galvanized steel with gray powder-coat protection. High performance stainless steel, dishwasher-safe baffle filters are also included and two-speed, marine-grade rocker controls withstand extreme heat and moisture. Optional, easy-to-install liners are available in 36-, 42-, 48-, 54-, and 60-inch widths. New depth ranges include: 26.5-, 29.5-, 20.5-, and 23.5-inches. (Adjustable depth also available.)
The Zephyr Presrv™ Outdoor Beverage Cooler is built with corrosion-resistant 304-grade stainless steel and durable enough for outdoor use throughout the seasons. Includes a Full-Extension Wire Rack to hold your favorite craft brew or prepped veggies for the grill. Presrv™ Outdoor Beverage Cooler also features PreciseTemp™ temperature control to maintain accurate temperatures and Active Cooling Technology to ensure even cooling.