July 12, 2023
What is the best outdoor refrigerator?
New Zephyr Presrv® Outdoor Refrigerator Features a Sleek Design, Extra-Large Capacity, and Innovative Cooling Technology
Zephyr enters into a new product category with the launch of its Presrv™ Outdoor Refrigerator. The Presrv™ outdoor compact refrigerator is the ideal undercounter fridge for outdoor entertaining. It's ideal for keeping appetizers, your favorite brews, grill-ready food, and fruit garnishes for drinks and snacks. It saves time and effort by allowing you to stay outside while entertaining. The stainless steel outdoor kitchen refrigerator also adds storage space to the outdoor kitchen with adjustable glass shelves for cans and bottles.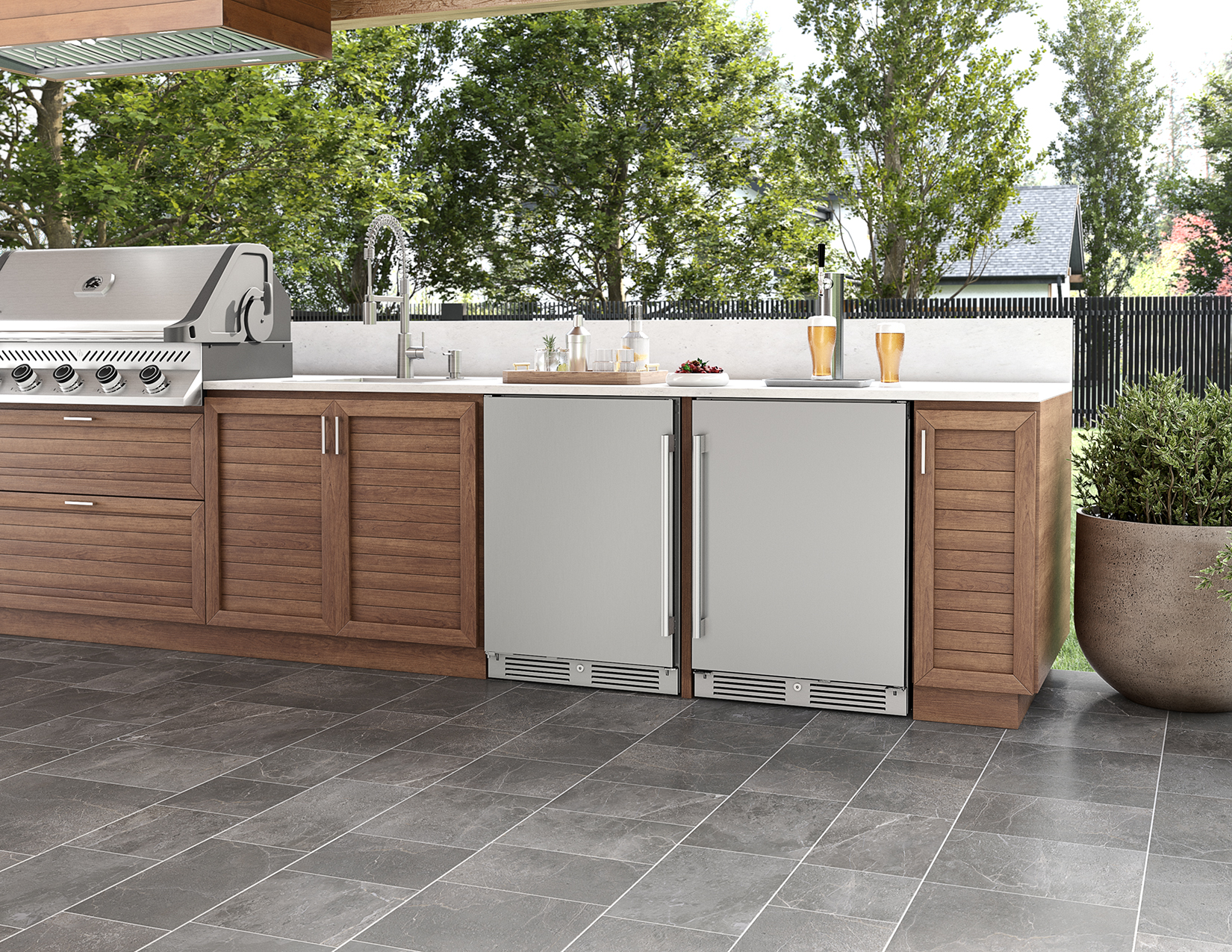 The Presrv™ Outdoor Refrigerator withstands the weather with its strong stainless steel construction. It has a spacious 6 cubic feet interior with LED lighting in Cloud White. The outdoor mini fridge is ENERGY STAR®-certified and has adjustable glass shelves and customizable in-door shelving. It can hold different sized beverages, from 12oz cans or bottles to gallon jugs.
The touch controls on the outdoor minifridge make it simple to set and adjust the temperature control (34° – 50° F). This low temperature sets Zephyr small refrigerators above the competition, as they reach an industry low of 34° . The fridge has PreciseTemp™ technology and a computer that controls fans for even cooling. This is important for keeping beverages of all shapes and sizes at a controlled and evenly chilled temperature.
What is an outdoor refrigerator?
When searching for the top outdoor fridges, think about important features, durability, temperature control, storage, and capacity. This beverage center is certified for indoor and outdoor use and is the perfect addition to your outdoor bar. The outdoor beverage fridge has a storage capacity of up to 136 cans and serves as an outdoor beer fridge. The 24-inch drink fridge can be installed outdoors in a built-in installation or used as a standalone with wheels. This offers even more flexibility and allows for indoor storage during the winter season.
Outdoor refrigerators come with a range of convenient features and accessories to enhance the outdoor culinary experience. The new Zephyr outdoor fridge has five shelves in the door for different bottles and commonly used items. These shelves are ideal for storing condiments, taller glass bottles, and any additional beverages for easy access. The beverage fridge also has three removable shelves made of transparent-gray glass for easy cleaning.
Cleaning the outdoor refrigerator is easy when these steps are followed. First, unplug the appliance from the plug socket when not in use, when moving from one location to another and before cleaning. Second, open the door and remove the contents and shelves. Third, with a clean cloth, wipe down the interior of the unit. Fourth, reinsert the shelves and beverages. Fifth, reconnect power to the unit. The exterior unit can be cleaned with a stainless steel cleaner. Apply a nonabrasive cleaner, such as a soft scrub or sponge, dampen it, and rub the area in the same direction as the stainless steel grain. Use a stainless steel cleaner and follow the manufacturer's instructions. Never use an abrasive or caustic cleaning agent as it could damage the exterior or cause discoloration.
The outdoor fridge features a side-mounted, professional-style door handle and field-reversible door, ensuring flexible installation options. The outdoor bar refrigerator also offers a beautifully detailed kickplate with a built-in door lock. The compact refrigerator also includes lockable doors to keep food and drinks safe.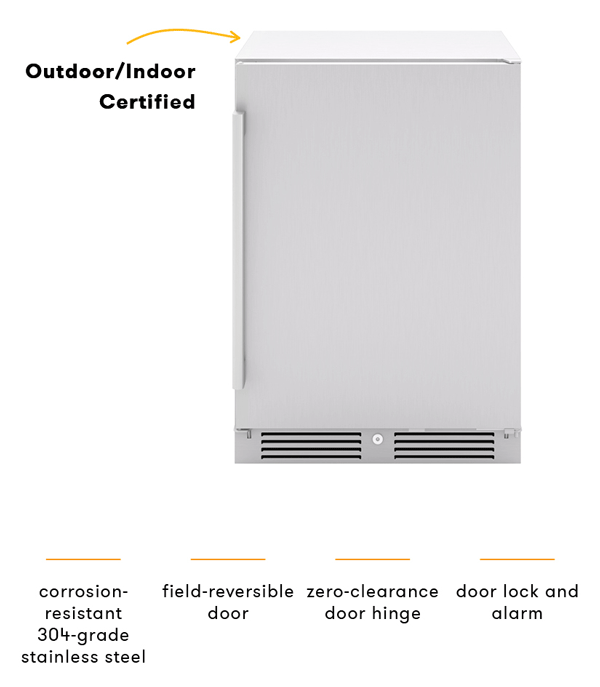 When choosing an outdoor bar refrigerator, consider precise temperature control to keep your food and drinks at the right temperature. The Zephyr Presrv® Outdoor Refrigerator has a feature called PreciseTemp™ that lets you adjust the temperature using a thermostat.
Boasting an ultra-low temperature range spanning from 34° to 50° F and an ambient temperature range of 50° to 115° F, the Zephyr outdoor mini fridge is outdoor rated and suits any climate, environment or weather. Built with 304-grade stainless steel to withstand all elements, the under-counter outdoor fridge's sleek exterior perfectly complements its sophisticated interior. The mini fridge offers 5.6 cubic feet of space for storing everything from drinks to snacks and food for the barbecue.
The outdoor mini beer fridge comes with useful features like a door-open alarm, carbon filter air filtration, Sabbath mode, and interior lighting in Cloud White. The LED lighting saves energy and improves visibility inside the unit. Plus, it has a generous 2-year warranty on parts and labor, as well as a 5-year compressor warranty. Zephyr prides itself on its warranty options and exceptional customer service.
Where to buy an outdoor undercounter fridge?
Zephyr is your ultimate solution for outdoor bar coolers, fridges, and under-counter refrigeration. To buy a Zephyr Presrv® Outdoor Refrigerator or any of the indoor or outdoor Zephyr single zone and dual zone coolers, find a nearby Zephyr Authorized Dealer at zephyronline.com. Enter your location in the search field, and the list will show Authorized Dealers near you.
In addition to the new outdoor under-counter fridge, Zephyr provides a variety of outdoor range hoods, beverage centers, patio coolers, and refrigerators. The new Presrv™ Outdoor Kegerator & Beverage Cooler is the ultimate beer fridge. You no longer need a bottle opener when you have cold beer at your fingertips with an at-home kegerator in your outdoor kitchen. It can fit up to five keg configurations and offers single, double, and triple tap options. It can also be used as a beverage cooler when a keg is not installed. So whether you are a hosting a big backyard party or intimate gathering with friends, the Kegerator & Beverage Cooler is the ultimate product to complete your home bar.
The Presrv™ Outdoor Beverage Cooler features a wire rack to chill craft brews or wine and can hold up to 136 12 oz. cans. This unit is also ENERGY STAR®-certified, and reaches a temperature range of 34° F to 50° F. For more refrigeration options, view the full collection of Presrv™ Wine & Beverage Coolers, Kegerators, and Refrigerators. For more information on all of the outdoor product options available at Zephyr, visit zephyronline.com.
Outdoor refrigerators and outdoor beverage coolers are a versatile addition to any outdoor kitchen or entertaining area. These beverage refrigerators not only provides convenient access to chilled beverages and perishables but also enhances the overall functionality and enjoyment of your outdoor space.
When selecting an outdoor fridge, think about durability, temperature control, energy efficiency, and convenient features like adjustable shelving. Select a Zephyr Presrv® Outdoor Refrigerator for a high-quality choice that elevates your outdoor entertaining and impresses your guests.
This blog post was written in part utilizing ChatGTP.