Benefits Of Wine And Beverage Units | Why You Need A Zephyr Presrv™ Wine & Beverage Cooler
Wine and beverage units provide two primary benefits aside from convenience:
Long-Term Storage: Storage for periods longer than 6 months.
Storage At Service Temperature: Storage for less than a year at serving temperatures for all types of beverages.
Zephyr Presrv™ Wine & Beverage Coolers offer quality performance and a quality build. Presrv™ coolers maintain steady temperatures and humidity throughout the units and are designed to minimize vibration and UV light, keeping your wines in the optimal storage conditions. Our coolers are built with quality components and touch points, and they are exceptionally quiet in operation, which sets a soothing ambiance for any room.
We have continued our commitment to unexpected design with specialty kitchen appliances with the introduction of Presrv™ Wine & Beverage Coolers. Presrv™ reflects the smart design and technology of our original products in a whole new context, with our signature, superior craftsmanship.
In addition to our quality craftsmanship, we back our products with an unparalleled level of service and a multi-year warranty. Our friendly customer care team is here to help with any questions you might have. For more product service and warranty information, please visit our Service & Warranty page.
Keys To Long-Term Wine Storage | Periods Longer Than 6 Months
Long term wine storage temperatures range from 53° to 57° for all types of wine. Maintaining a steady temperature is the target. This allows the wine to age and develop as the winemaker intended.
Serving temperatures vary by the wine varietal. The general rule of thumb is the lighter the wine, the cooler it is served. Regardless, no wine should be served at room temperature.
The right amount of humidity allows the cork to function properly over many years. If it's too wet or dry, the cork will allow molds or air to spoil the bottle.
Fortunately, keeping bottles for less than a year does not give enough time for humidity to effect the cork.
Keeping your wine still is equally important as temperature and humidity. Vibration disturbs the wine and its development over time, ultimately dulling the flavor.
Vibration can bother wine even if keeping them less than a year. It can dull flavors and the nose.
Sunlight or incandescent light will react with phenolic compounds in wine damaging the taste. Hence why wine caves provide a near ideal environment for storing wines.
| | |
| --- | --- |
| Sparkling Wine: 45° to 48° F | Asti, Prosecco, Champagne |
| Light Whites: 45° to 50° F | Rosé, Sauvignon Blanc, Pinot Grigio |
| Full Bodied Whites: 50° to 55° F | Chablis, Chardonnay, Viognier |
| Light Reds: 55° to 60° F | Beaujolais, Pinot Noir, Barbera |
| Full Bodied Reds: 60 to 65° F | Bordeaux, Merlot, Cabernet, Sauvignon, Syrah |
Our Presrv™ Dual Zone Wine Coolers give you the flexibility to store any wine at the temperature of your choice.
Beer Storage & Serving | Storage Temperature Is Serving Temperature
Temperature, humidity, vibration and light all affect beer similarly to wine.
For storing beer, we follow the 3-30-300 rule for storing mass market beer and recommend you drink them in 3 to 6 months. Flavor loss typically occurs in:
3 days at 90° F
30 days at 72° F
300 days at 38° F
Vintage beers, barley wines, imperial stouts, lambics, old ales, etc. can be aged from one to ten years or more to build complexities. IPAs have a shorter shelf life than most beers and should be consumed at a quicker rate.
Ideally, the temperature you store your beer at is also the temperature you want to serve your beer at. Storage temperature can affect the flavor and quality of your beer. Near freezing temperatures mask flavors, and the beer retains more CO2. Below are recommended storage and serving temperatures for various types of beer:
| | |
| --- | --- |
| 38° to 45° F | Light bodied beer |
| 45° to 50° F | Lighter lagers, pilsners, wheat beers |
| 50° to 55° F | Standard ales like Bitters, IPA's, Dobbelbocks, Lambics, and Stouts |
| 55° to 60° F | Strong bodied beers, dark Ales, and tripels |
Try some of these general beer storage tips and tricks to protect your investments:
Refrigerate all beer to maintain freshness, flavors and aromatics.
Store bottles upright, and minimize light and vibration.
Corked beer should also have a stable humid environment.
Maintain steady temperature over time and throughout your beverage units.
Store your favorite beer and soda in our Presrv™ Single Zone Beverage Cooler. This cooler is one of the coldest units on the market and goes down as low as 34° Fahrenheit, which is the ideal temperature for storing soda and beer.
Wine & Beverage Cooler Model Types
Presrv™ Wine & Beverage Coolers Shared Features
An on-board computer controls active cooling fans to provide temperature stability and even cooling.
How We Measure Up: A Guide To Bottle Size & Shape
When we reference bottle capacity for our wine (and beverage) coolers, we are referring to the maximum quantity of standard 750ml Bordeaux-style bottles that will fit into that particular cooler. In reality, there is no true "standard" bottle size in today's wine market. If your collection includes any of these non "standard" Bordeaux-style bottles, your capacity can be lower than what we advertise the unit can hold.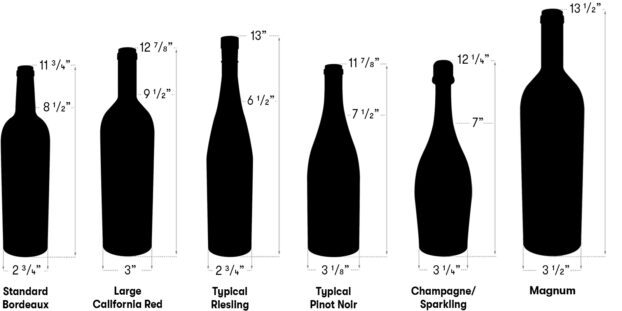 Large Diameter Rack
In select Zephyr Presrv™ wine coolers, a 7- or 9-bottle capacity rack accommodates large diameter bottles such as specialty craft beers, pinot noir, chardonnay, and champagne.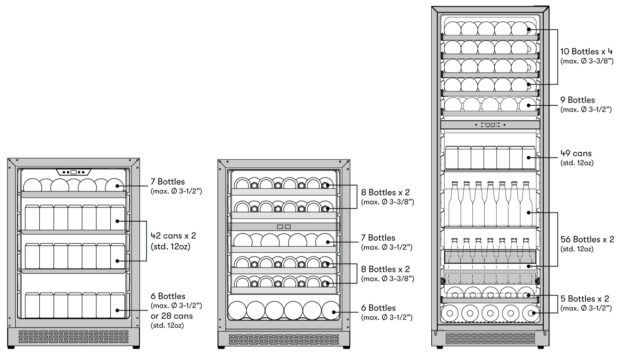 A built-in carbon filter protects your beverages by acting as a natural barrier against harmful odors. The carbon filter should be replaced every 3 to 6 months depending on the unit's exposure level to odor. If the unit is placed in a kitchen, regular replacement every three months is ideal.
For more information, consult your Presrv™ cooler user manual. To purchase replacement carbon filters, please visit our Parts & Accessories Store.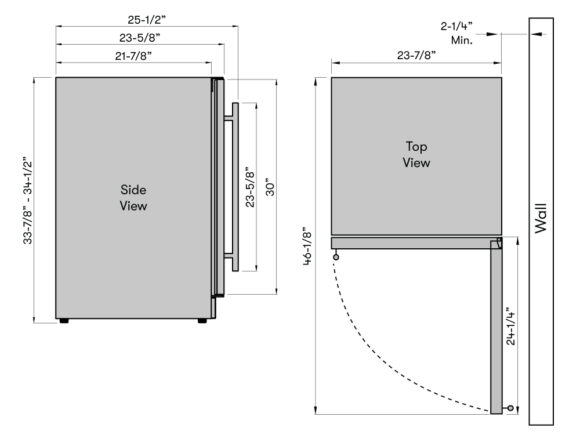 All Presrv™ Wine & Beverage Coolers can be built-in or freestanding. Units come with a field-reversible door for more flexibility with installation and use. All Presrv™ Wine & Beverage Coolers also come standard with zero-clearance door hinges.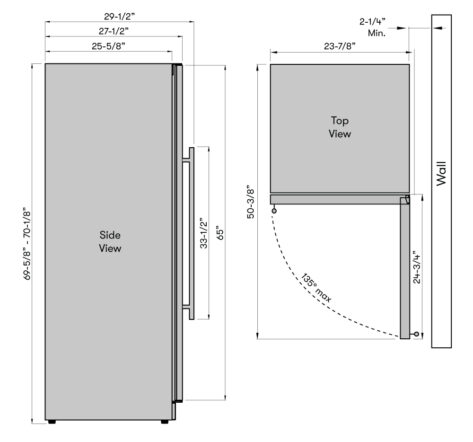 Improves insulation to minimize heat exchange and increases soundproofing characteristics. A Low-e coating helps minimize the amount of UV and infrared light that passes through the glass door.
Presrv™ Wine & Beverage Coolers are designed to minimize vibration and light and keep both from disturbing your bottles:
The condenser is integrated into the base of the cooler. This eliminates rattling sounds and vibration. It is also less prone to damage.
LED lighting emits far less harmful UV radiation than standard lighting.
Black interior absorbs unwanted light. Wood racks deaden vibration better than metal or plastic.
Multiple internal sensors help maintain accurate temperatures for precise cooling throughout the unit.
Zephyr Presrv™ Wine & Beverage Coolers feature one or more Full-Extension, Black Wood Racks with Stainless Steel Trim. All of the wood is untreated to avoid any staining and to keep the rack from absorbing moisture and swelling.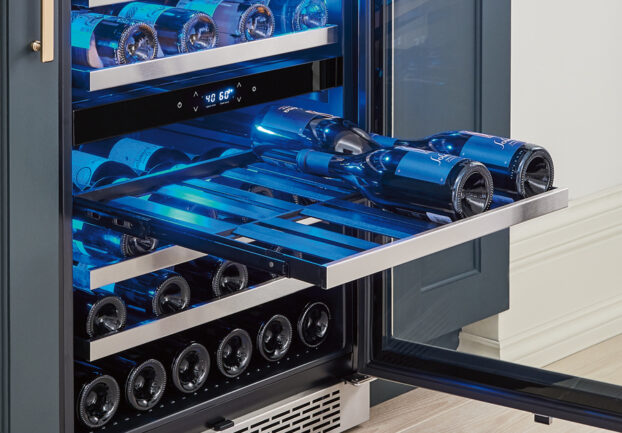 *To accommodate fluctuating and varied outdoor climates and elements, our Presrv™ Outdoor Single Zone Beverage Cooler is equipped with a Full-Extension Black Wire Rack in place of the Full-Extension, Black Wood Rack with Stainless Steel Trim. 
Our indoor Presrv™ Beverage Coolers all feature Adjustable, Transparent-Gray Glass Shelves with Airflow Openings to maintain even temperatures throughout the units.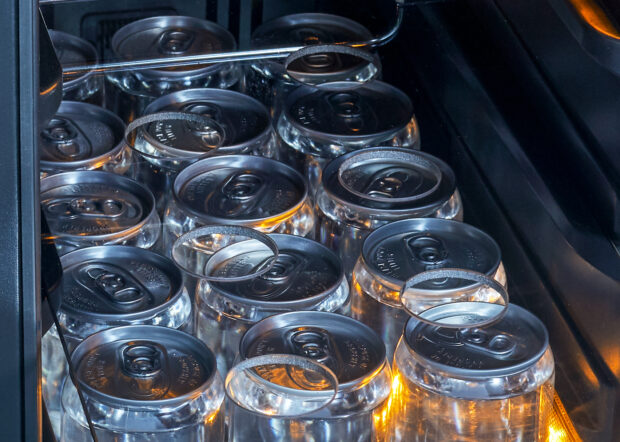 For more information on the shelving for each Presrv™ model, explore our entire Presrv™ Wine & Beverage Cooler Collection.
Presrv™ Wine & Beverage Coolers maintain steady temperatures and humidity levels throughout each unit due to their design:
A changeable carbon filter keeps odors from entering corks.
The Single Zone evaporator is larger than normal.
All Dual Zone models feature two evaporators.
Presrv™ Wine & Beverage Coolers feature 3-Color LED Lighting in Cloud White, Deep Blue and Amber to set the mood for any occasion.
Cloud White
Deep Blue
Amber
*Our Presrv™ Outdoor Single Zone Beverage Cooler only features Cloud White lighting.
An isolated compressor, smooth running fan motors, heavy-duty cabinet and high-quality components help reduce noise and vibration to minimize wine disturbance. The high quality compressor is designed for long life and quiet operation.
Our Presrv™ Wine & Beverage Coolers are built with welded and polished, 304-grade stainless steel. Each unit comes with a sleek contemporary-style door handle.

*For Presrv™ Panel-Ready Wine & Beverage Coolers, the contemporary-style door handle is sold separately from the unit as optional accessory.
The following features are available in all Zephyr Presrv™ Wine & Beverage Coolers:
Electronic Capacitive Touch Controls for setting temperature
Door Alarm
Stainless Steel Toe Kick
Ability to display Fahrenheit or Celsius temperatures
Display or Automatic Mode Light Settings
Sabbath Mode — During the Sabbath, or Shabbat, and religious holidays in Judaism, there may be restrictions on certain activities that include the use of household appliances. Some of these restrictions may include turning appliances on or off, activating sounds and lights, or using control panels. Sabbath Mode allows people to use their kitchen appliances without violating their religious laws because when appliances are set to Sabbath Mode, certain features may be disabled or modified to accommodate these needs. In refrigeration, Sabbath Mode allows you to open and close your refrigerator door without activating interior sounds, lights, or other controls. While your wine or beverage cooler is in Sabbath Mode, temperatures cannot be adjusted, and the exterior lights and display will be deactivated on your unit. This will make your cooler appear as if it is turned off, but your cooler will keep running as normal, and its temperature settings will remain unchanged.
Warranty — In addition to our Zephyr Presrv™ Wine & Beverage Coolers  a 1-year warranty on parts, a 2-year warranty on non-consumable parts, and a 5-year warranty on non-consumable compressors. For more information, visit our Service & Warranty page.
Presrv™ Unique Features & Optional Accessories