Business Hours
The Zephyr Design & Experience Center will be closed Friday, (9/3) and Monday (9/6) in observance of Labor Day. We will resume normal business hours on Tuesday (9/7).
*The Zephyr Design & Experience Center has fully reopened to our regular hours, Monday through Friday from 10 a.m. to 4 p.m. Please schedule your appointment below. We are unable to accept walk-ins at this time due to pandemic social distancing protocols.
*Monday Through Friday
10:00AM – 4:00PM PT
*Please use the scheduler tool below, call, or email to request an in-person or virtual appointment with our DEC Manager.
Contact Us
showroom@zephyronline.com
(888) 880-8368, select Option 5
Schedule An Appointment
View Our Products With Confidence
We are committed to operating with the highest safety standards to ensure the health and well-being of our team and yours. To ensure the safety of our guests, we've enacted the following protocol: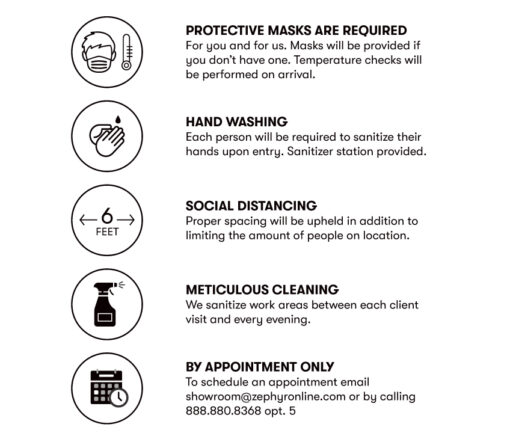 About the Design & Experience Center
The Zephyr Design & Experience Center is a luxury showroom, education and training facility that features specialty residential appliances. The 7,000 square-foot space provides design inspiration with hands-on, working displays, and is open to the public and trade experts.
The Design & Experience Center showcases residential kitchen appliances, which include the Zephyr Core, Designer, and Pro Range Hood Collections; Zephyr Presrv™ Wine & Beverage Coolers; and Fulgor Milano Italian Cooking Appliances.
Visit our Find A Dealer locator to purchase one of our products. We are not a retail storefront, and no sales transactions take place here.
Location
2277 Alameda St, San Francisco, CA 94103
(888) 880-8368, select Option 5
showroom@zephyronline.com